Proper curtain ideas can greatly enhance the decor of a Modern home. Curtains are essential to a room's overall beauty in addition to their value as privacy and light-controlling restrictions.
Table of Contents
What is Curtain?
Generally speaking, a "curtain" is a piece of cloth or other material that is hung in front of a window or doorway for aesthetic reasons, privacy, or to block out light. Because they are available in a wide range of designs, hues, and materials, curtains can be used in interior design for both practical and decorative purposes. For privacy reasons or to regulate the amount of light entering a room, they can be opened and closed as needed.
Curtain Ideas for Small Spaces
Curtains can be a great addition to small spaces, as they can add a sense of relaxation and style while also helping to control light and privacy. Here are some curtain ideas for tiny spaces: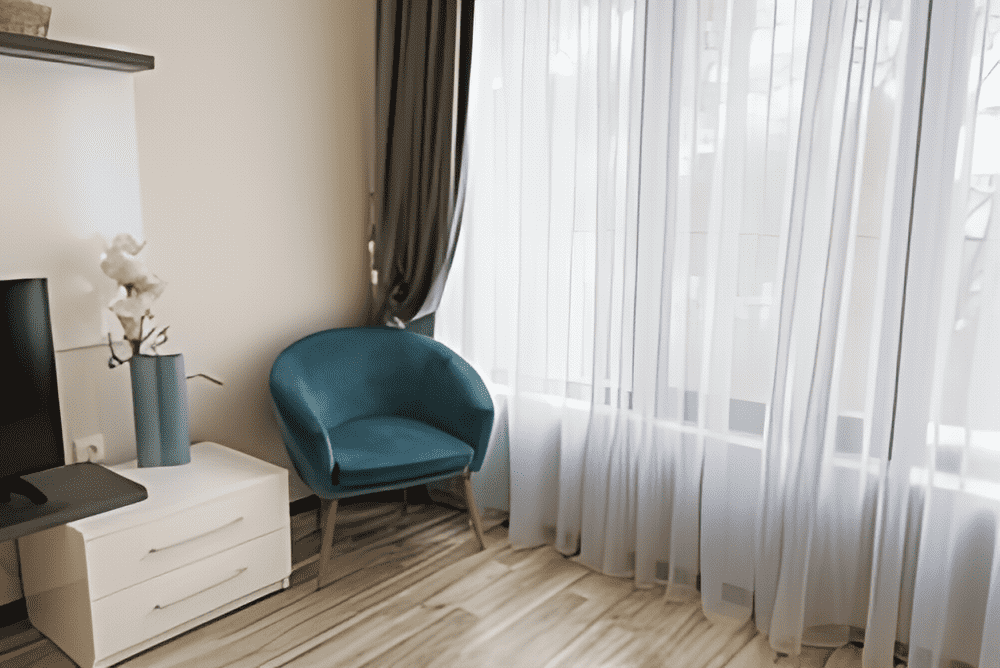 Sheer Curtains: Because they provide a certain amount of privacy while letting natural light in, sheer curtains are a popular and excellent option for small spaces. They give the space a feeling of openness and airiness, which enlarges it.
Neutral Colours: Pick curtain colors that are neutral and light, like pastels, whites, creams, or light greys. These colours have the power to open up and brighten a space.
Floor to Ceiling Curtains: With hanging curtains from the ceiling to the floor, you can give the impression that the space is higher and more expansive. This method lifts the eye and works best in small rooms.
Vertical Stripes: Choose curtains with patterns or stripes that run vertically. In small spaces, vertical lines can help a room appear taller and more airy.
Minimalist Design: Simple, minimalist curtain designs without overbearing ruffles or heavy embellishments are an option. A feeling of simplicity and openness can be preserved with the aid of simple shapes and clean lines.
Double Rods: Installing double curtain rods is necessary if you need to control light through both sheer and blackout curtains. For added versatility, you can layer heavier, light-blocking curtains on top of sheer curtains.
Mirror Effect: When you position a large mirror in front of a window with sheer curtains drawn, it will reflect gorgeous natural light and the surrounding landscape, creating the illusion of a larger room.
Tiebacks or Holdbacks: To keep curtains neatly gathered to the sides during the day, use curtain tiebacks or holdbacks. This can increase the amount of light that enters the space and give it an air of openness.
Monochromatic colour scheme: Choose curtains that are either slightly darker or lighter than the walls, or match their colour to that of the walls. This can give the space a unified, visually clear appearance that opens up the space.
Different styles of curtains
There are many different types of curtains, and the style you choose can greatly affect how a room looks and feels overall. The style of curtains you choose should take into account your personal aesthetic preferences, the decor of the room, and how much privacy and light control you want. When choosing curtains for a room, it's important to keep the overall design and function in mind as different styles can create different moods and atmospheres. Here are some popular styles of curtains:
Curtains with a rod pocket: These curtains feature a sleeve or pocket at the top where a curtain rod can be inserted. They slide open and closed easily and give off a gathered appearance.
Tab-top curtains: are made with loops of fabric at the top that are threaded through a curtain rod. They give an appearance of ease and relaxation.
Curtains with grommets: Grommet curtains have metal rings (grommets) that slide straight onto the curtain rod at the top. Their appearance is sleek and contemporary.
Pinch-Pleat Curtains: The pleats in these curtains are sewed into the heading, giving them a structured, tailored look. They are frequently employed in formal contexts.
Pencil-Pleat Curtains: Pencil-pleat curtains have tiny pleats at the top that are closely spaced and give the impression of a row of pencils holding themselves upright. They provide a refined and timeless appearance.
Eyelet Curtains: Grommet curtains and eyelet curtains are similar in that the rod is threaded through the large eyelets at the top of the curtain. Their appearance is sleek and modern.
Cafe curtains: offer privacy and let in natural light by covering just the lower portion of a window. They are frequently utilised in restrooms and kitchens.
Sheer Curtains: Sheer curtains are used to diffuse light and offer a certain amount of privacy. They are composed of lightweight, translucent fabric. They give a room a feeling of lightness and delicateness.
Blackout curtains: These curtains are perfect for bedrooms, home theatres, and other areas where light control is crucial because they are made to block out practically all light. They frequently have a coating or lining that improves their ability to block light.
Valances: Often used in conjunction with other curtain styles, valances are short curtains or decorative fabrics. They provide a decorative element to the window treatment and cover the upper portion of the window.
Trendy Curtain Ideas
With the right curtain ideas, modern home decor can be greatly enhanced. In addition to their practical uses in offering seclusion and managing light, curtains also greatly enhance a room's overall aesthetic. To update your contemporary house, consider these chic curtain ideas:
1. Living Room Curtain Ideas
You host parties and enjoy quality time with your family in the living room. Here are some suggestions for curtains to improve this area:
Neutral Style: Curtains in subtle patterns and neutral colours give your living room a classic, adaptable style.
Luxe Layers: You can achieve the ideal balance between privacy and natural light by combining sheer and blackout curtains.
Vibrant and Elegant: Curtains with vibrant colours or eye-catching patterns will liven up your living room and create a compelling focal point.
Natural Light: Install curtain rods wider than your windows to maximise natural light. This gives the space an air of openness and spaciousness.
2. . Kitchen Curtain Ideas
The kitchen is the centre of the house, and the correct curtains can enhance its appeal and usefulness. Examine these concepts:
Cafe Curtains: Traditional cafe curtains let natural light into your kitchen and create a warm, inviting atmosphere.
Pattern Play: Choose curtains that complement the colour scheme of your kitchen to give the space a bit of flare and individuality.
Tiered Elegance: Bringing the outside inside, tier curtains provide seclusion while letting you take in views of the outside world.
Valances: Decorative valances complement the overall design and give your kitchen windows an additional layer of charm.
3. Bedroom Curtain Ideas
The bedroom should be a haven of peace and comfort. Here are some curtain ideas to create a calm atmosphere:
Blackout Bliss: Select blackout curtains that filter out outside light and noise for a peaceful night's sleep.
Romantic Sheers: Softly coloured sheer curtains give your bedroom a romantic touch while fostering a dreamy atmosphere.
Statement Headboard: Curtains offer a distinctive and personalised touch when used as a headboard in place of a conventional one.
Canopy Drama: Use flowing curtains to elegantly frame your bed to create a dreamy canopy bed effect.
4. Window Curtain Ideas
Curtains for windows come in various styles. Explore these versatile ideas:
Bay Window Beauty: Use custom curtains to accentuate the architecture of your bay windows and embrace their distinct beauty.
Long and Flowy: Hanging floor-length curtains will enlarge your windows and give your décor a refined look.
Colour Harmony: To create a unified, aesthetically pleasant space, coordinate the colour scheme of your curtains with the room's accent colours.
Curtain Rings: Decorative curtain rings can raise the style of your window treatments and give them a refined touch.
5. Shower Curtain Ideas
Bathroom decor often starts with the shower curtain. Here are creative ideas for your bathroom:
Bold Graphics: To create a statement and give your bathroom a special touch, choose shower curtains with bold graphics.
Mildew-Resistant: To guarantee longevity and hygienic conditions, choose shower curtains composed of materials resistant to mildew.
Matching Accessories: To create a unified and fashionable look, match your shower curtain to other bathroom accessories.
Vintage Feelings: Shower curtains in the vintage style give your bathroom a nostalgic, unique touch that makes it feel warm and welcoming.
6. Bay Window Curtain Ideas
Bay windows are a special way to show off your personal style. Examine these concepts:
Window Seat Elegance: To transform the bay window into a lovely reading nook, create a comfortable window seat with cushions and curtains.
Classic Drapes: Adding sophistication to your space, elegant drapes that extend from the ceiling to the floor can accentuate the grandeur of your bay windows.
Sheer Sophistication: Your bay window area will feel airy and welcoming thanks to sheer curtains that let in natural light while providing seclusion.
Patterned Pleasure: To add a bit of visual interest, try using patterned curtains that draw attention to the distinctive shape of bay windows.
7. Sliding Glass Patio Door Curtain Ideas
Your patio doors serve as a doorway leading outside. You can manage both style and function with the aid of these curtain ideas:
Vertical Blinds: These blinds let you regulate how much light enters the room and offer simple access to the patio.
Curtain Panels: To add warmth and style to your room and create a cosy, welcoming atmosphere, hang curtain panels on either side of your sliding doors.
Outdoor Drapes: Weather-resistant outdoor drapes can transform your patio into a tranquil haven by providing beauty and seclusion.
8. Dining Room Curtain Ideas
The dining room should be a stylish and welcoming space as it is where people congregate. Look into these concepts:
Formal Elegance: Fine draperies in plush textiles can create a sophisticated ambiance by setting the tone for a formal dining experience.
Casual Chic: To create a cosy and welcoming dining area, choose curtains with a casual style that complements the laid-back atmosphere.
Statement Tiebacks: Adding ornamental tiebacks to your curtains can give them a stylish touch and highlight your dining area.
Double-Duty: To control light and privacy and offer versatility for any occasion, combine sheer shades with curtains.
9. Patio Curtain Ideas
Use these curtain ideas to turn your outdoor patio into an extension of your living area:
Outdoor Curtains: Weather-resistant outdoor curtains give your patio style and privacy, transforming it into a welcoming outdoor retreat.
Pergola Drapes: Cover a pergola with drapes to create a warm and attractive outdoor area that is ideal for lounging and entertaining.
Colourful Oasis: To make your outdoor space lively and dynamic, choose curtains that are vivid and full of life.
Mosquito Netting: To enjoy your patio bug-free and create a cosy and tranquil outdoor retreat, use curtains as mosquito netting.
10. Sliding Door Curtain Ideas
Sliding doors present distinctive design possibilities. Consider the following ideas:
Panel Track Blinds: Panel track blinds are a great option for sliding doors because they are practical, sleek, and stylish.
Curtain Panels: To give your sliding doors a polished and well-coordinated look, hang curtain panels that go with the décor of your room.
Ceiling-Mounted Curtains: Hanging curtains from the ceiling gives your room an open, airy, and contemporary appearance.
Room Divider Curtains: Divide spaces with curtains to give your layout more flexibility and make it simple to modify the area to suit your needs.
11. Closet Curtain Ideas
Closet curtains are fashionable and practical. Examine these concepts:
Sheer Simplicity: You can create a neat and organised space by using sheer curtains to hide closet clutter while still having easy access to your belongings.
Pattern Pop: Use curtains with striking patterns to transform your closet into a chic focal point that livens up your space.
Closet Doors Alternative: Because they improve your decor and offer easy access, curtains can be a great substitute for traditional closet doors.
Tassel Tiebacks: Decorative tassel tiebacks give your closet curtains a classy touch that enhances the appearance of the space.
12. Door Curtain Ideas
Improve your home's entryways with these imaginative door curtain ideas:
Beaded Curtains: Adding a distinctive and artistic element to your doors, beaded curtains create a warm and enticing entry.
Privacy Screens: To control light and privacy in style, use curtain panels as privacy screens for glass doors.
Vibrant Welcome: Use door curtains to create a cheery entryway that greets guests and sets the mood for your house.
Boho Vibes: Bohemian-style curtains can give your home a laid-back, artistic feel while also bringing a free-spirited, artistic atmosphere. You can update your living room, patio, closet and every other area of your house with these curtain ideas. Discover your personal style, try out these concepts, and make your living areas into lovely, practical refuges that showcase your distinct personality.
Conclusion
The correct curtains can make your living areas seem extraordinary instead of just ordinary. For any room and space in your house, there's a curtain option that will add a touch of elegance, privacy, or boldness. With these innovative curtain ideas, use your imagination, try out various aesthetics, and watch as your home decor comes to life.
It's now your chance to implement these suggestions and use the power of curtains to improve your house. Start by choosing curtain ideas that complement your decor and living area, and then watch as your house is transformed into a chic and useful retreat.